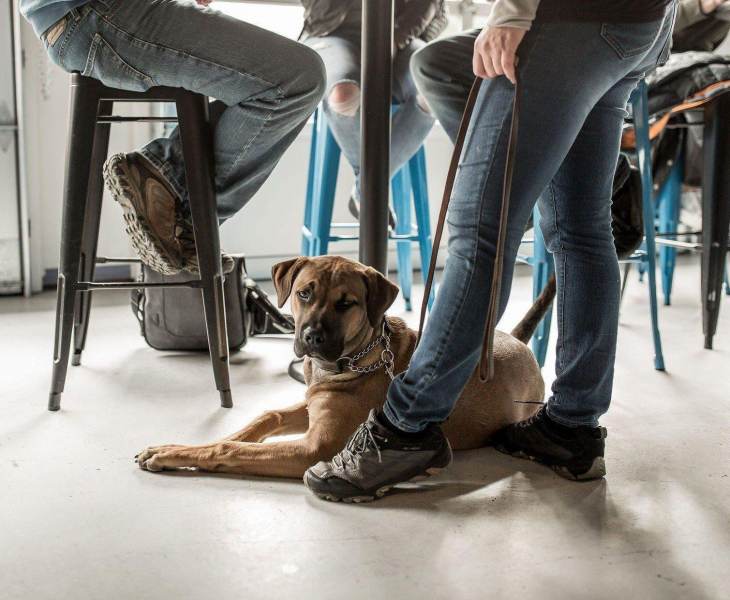 Research shows that dogs make us healthier. There's also research that shows pets truly become part of the family. Roswell understands the importance of those furry family members, and the need for them to be experiencing the world with you. As one of the most dog-friendly destinations in the southeast, we welcome you and your pup to our town with open arms!
Outdoors
Roswell is well-known for our outdoor activity opportunities. You can hike any of the trails with your pup. Some of the trails include the Chattahoochee River National Recreation Area! In addition to trails, there is a boardwalk along the Chattahoochee River. If your pup is into watersports, you can also include dipping their paws into the Chattahoochee, or Vickery Creek complete with views of the waterfall.
Parks
Roswell is lucky to have a wonderful park system. All 18 of our parks are dog-friendly and ready to welcome you and your doggo! Two of our parks have fenced-in dog parks on the grounds which will be perfect to run off some extra energy after traveling to Roswell.
Shopping
Boutique shopping and dogs don't sound like they mix, but they do in Roswell! Nearly every boutique and art gallery in Roswell is ready to welcome your pooch through their doors. For a full list of places that are dog-friendly, download or screenshot the flyer below.
Restaurants
Not only is Roswell a place you should visit because you can bring your dog, but it has an incredible restaurant scene. Thanks to the amazing Georgia weather, it's almost always patio season. This is where your pups come into play. Over 60 restaurants in Roswell have patios that welcome you and your dog to the table. For a full list of dog-friendly restaurants, download or screenshot the flyer below.
Lodging
You can't go on a trip without somewhere to stay! Six of our hotels are dog-friendly and they are excited to welcome you. Sleep comfortably knowing you are with your best furry friend on a fun adventure.
Plan your trip to Roswell, Georgia to experience it all with your four-legged companion by your side. Don't forget to stop by our Visit Roswell Georgia office so we can give you tips on places to go, and treats for you to hit the road.
***Notice the flyer is multiple pages! Make sure to click the arrows to not miss any great, dog-friendly hangs!
Parks & Outdoors
"In every walk with nature, one receives far more than he seeks." -John Muir learn more