1. Take a self-guided tour with our Points of Interest guide. Visit Roswell offers a self-guided Points of Interest guide that's predominantly focused on the city's Historic District. For those who revel in history, Roswell's Historic District offers 640 acres of vintage homes, historic sites, museums, monuments, churches and cemeteries, with 122 acres of area listed on the National Register of Historic Places. Roswell's Historic District contains three circa 1840 cemeteries - Founders Cemetery, Roswell Presbyterian Cemetery, and Old Roswell Cemetery. Want to get out of your comfort zone? Learn a spooky lesson about Roswell's history on a Roswell Ghost Tour. These paid admission-based tours run year-round on Friday and Saturday nights and every night in October.
Visitors are also invited to tour the new Roswell History Museum. Through its exhibits in this newly created museum, the Roswell Historical Society honors its commitment to the preservation and interpretation of the diverse history of the area. Using primary documents, artifacts, and original photographs, the exhibits tell the rich and sometimes complex and poignant stories of early inhabitants of the Roswell area, including indigenous people, colonists, mill workers, the enslaved, and farmers. The Roswell History Museum documents the beginning of the area's history in a permanent exhibit entitled, "Roswell: The Early Years." The current rotating exhibit, "Troublesome Times," explores the impact of the Civil War in Roswell. The Roswell History Museum is located on the 2nd floor of the Roswell Cultural Arts Center at 950 Forrest Street, Roswell, Georgia. It is free and open to the public Wednesday to Saturday from 11:00AM – 3:00PM.
To download a Points of Interest guide, please click here. They are also available for pickup at our office at 1099 Alpharetta Street, Roswell, GA 30075.
2. Attend a City of Roswell-hosted festival or event. Known for putting on some of the best events in the Metro area, City of Roswell executes widely-popular events that include Alive in Roswell, Reels and Wheels, and Riverside Sounds. Alive in Roswell is a free family-friendly monthly festival held every third Thursday evening (5:00 - 9:00 PM) from April through October. The festival is held concurrently on Historic Canton Street and the Roswell Antique and Interiors Lot. The festival features music, food trucks, hundreds of interactive vendors, and enjoys participation from the many boutiques, small businesses and restaurants surrounding the venues. Reels and Wheels is Roswell's free updated take on Food Truck Fridays and Movies in the Park. Food Trucks will be at the park starting at 5:00 PM for anyone to enjoy! Grab a bite with friends after work or a snack for the family before the movie. Movies will begin at 7:00 PM. Movies will be played on a LED screen, making it visible for all while the sun is setting. Riverside Sounds is Roswell's longest running, FREE outdoor concert series. Riverside Sounds is celebrating 23 years of highlighting various musical genres and spotlighting original artists who bring moving lyrics, uplifting beats and unmatched energy. The concert series offers a laid-back environment surrounded by beautiful scenery, playgrounds, and trails along the Chattahoochee River.
3. Take a hike. Roswell's award-winning Recreation, Parks, Historic & Cultural Affairs department manages over 1,000 acres of parkland. Additionally, Roswell is home to the Chattahoochee River National Recreation Area that offers miles of trails throughout the Vickery Creek unit and Allenbrook detail. For those interested in hiking the CRNRA trails, access is past the covered pedestrian bridge within Old Mill Park. Click here for the Vickery Creek unit map and click here for the Allenbrook detail. Additionally, walking paths and trails are located throughout several of the City of Roswell's parks, including Waller Park, Old Mill Park, Leita-Thompson Memorial Park, Roswell Area Park, East Roswell Park, Big Creek Park and more.
5. Pack a picnic. We mentioned earlier that Roswell has over 1,000 acres of publicly-accessible parkland. Did you know that includes the grounds of Roswell's historic house museums? Available to the public and with no paid admission requirements, the grounds invite Roswell residents and visitors to enjoy taking in the serene environments of Barrington Hall, Bulloch Hall, Mimosa Hall & Gardens, and Smith Plantation. While the homes make incredible backdrops for a picturesque picnic, the ample greenspace also provides for plenty of space to spread out and dig in.
6. Get out on the Roswell Riverwalk. This multi-purpose greenway parallels the Chattahoochee River and encompasses stretches that include Bull Sluice Lake from Azalea Drive to Willeo Road, in addition to its makeup as a part of the greater Roswell Riverwalk system. The Roswell Riverwalk is a dedicated, off-road path running for seven miles along the Chattahoochee River. It's a popular trail, lending itself to a range of uses by residents of the nearby suburbs, from morning bike ride or evening jog or weekend walk with the family.
7. Take in our "Museum without Walls." ArtAround Roswell is a partnership initiative between Roswell Arts Fund and the City of Roswell. Started in 2016, this free "museum without walls" is a public art sculpture collection hosted in various outdoor sites throughout the city's acclaimed park system, historic district and private businesses. Currently the collection includes 10 permanent sculptures and 10 temporary sculptures. Roswell Arts Fund releases a nationwide call for all tours. After the call closes, the temporary sculptures are selected by a public art panel based on criteria including quality, diversity and how the sculptures can spark conversation, delight visitors and activate public spaces. For the 7th season of ArtAround Roswell, artists were asked to explore the theme of tradition. What made us who we are? How can we learn from the past? What do we celebrate as a community? To see this season's sculptures, as well as permanent sculptures, click here. Also, be sure to download the free Otocast app (available on iTunes and Google Play) and tour the sculptures of ArtAround Roswell with the artists acting as your own personal tour guides. The app can be used from home or at the sculptures. In addition to ArtAround, the Otocast app allows you to visit other sculpture collections around the country.
To learn more about things to do, places to dine, events to attend, attractions to visit and overnight accommodations to book in Roswell, utilize our website VisitRoswellGA.com. We hope to see you soon!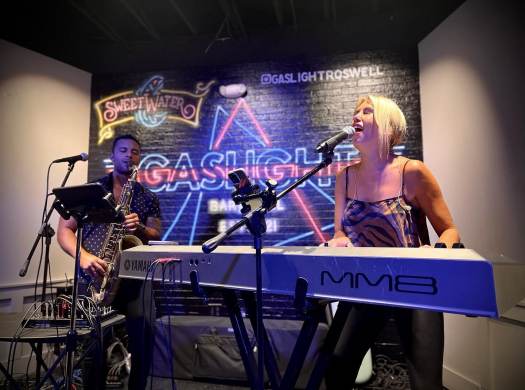 Toe-tapping, head-banging, rocking chair rocking or lawnchair lounging...