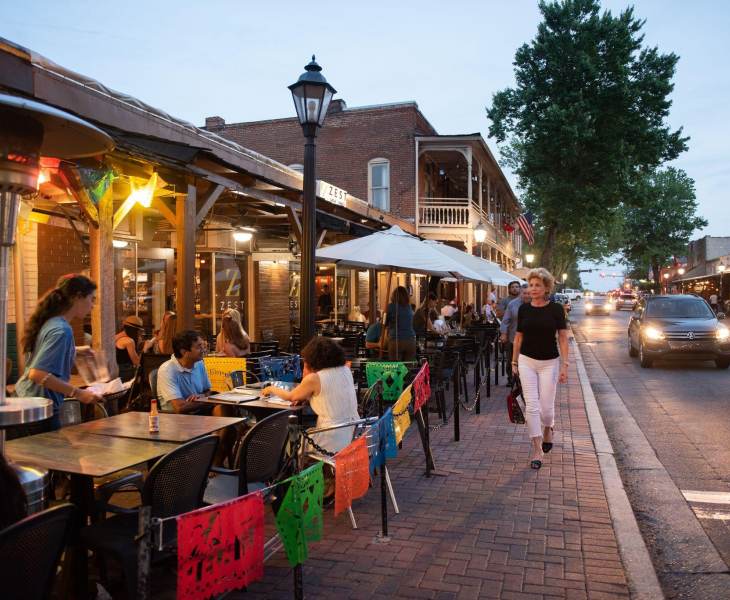 Are you looking for a getaway with lots of charm, delicious food, and outdoor activities? What if we said you could find all of that times two? Roswell and Marietta, Georgia are two metro Atlanta cities that can check everything off of your list and then some. We're going to tell you all about making a weekend trip between these two cities. Just 25 minutes apart, you'll find similarities between the communities, but the differences are what makes us special!
Charm
You know that small-town charm that you see in movies and wish you could transport to? Roswell and Marietta both house incredibly charming downtown experiences. Get ready to feel like you're in a Hallmark movie!

Marietta has a quintessential town square full of restaurants, shops, and attractions. In the middle of the square, you'll find a lovely park that often features live music performances serenading families, couples, and friends that have gathered together for time spent on the square.

In Roswell, we are known for Canton Street. This charming street is considered a "Georgia Great Street" and features restaurants, shops, art galleries, and more. The majority of businesses along Canton Street are within old homes. Not only are the spaces beautiful, it feels as though you have been invited into someone's home while you shop and dine.
Delicious Dining
We think one of the best parts of any trip is the chance to dine on delicious cuisine. Whether you're a foodie or a family looking for a menu with things the kids will actually eat, our dining scenes have you covered.
Roswell is considered a foodie destination. If you're looking for an award-winning dining destination, we've got it! Always a crowd-pleaser, Table & Main is your stop for upscale southern cuisine. What about a meal everyone could love? Pizzeria Lucca serves up wood fire pizzas, perfect for the whole family.
When you visit Marietta, come hungry! Indulge in the vibrant culinary scene with everything from fresh and nutritious meals from Good Kitchen + Market to the award-winning restaurant Spring. Stop by the famed Marietta Diner, featured on Diners, Drive-Ins and Dives. The local-owned restaurants are sure to satisfy any foodie.
Outdoors
When visiting Marietta and Roswell, you'll often forget you're so close to one of the largest cities in the United States thanks to the abundance of nature surrounding both communities.
One of Roswell's top spots for a photo op or the chance to take in nature at is Vickery Creek Falls. Overlook the waterfall while hiking the Chattahoochee River National Recreation Area trails, or sit along the shore to enjoy the view. Want to get out on the water? Kayak, canoe, float, or paddleboard along the 7-mile stretch of the Chattahoochee River. You can rent equipment from Nantahala Outdoor Center or bring your own for a day on the Hooch.



We have only scratched the surface of the fun you can have when visiting these incredible cities. Check out Marietta's blog to see their recommendations between the two cities.