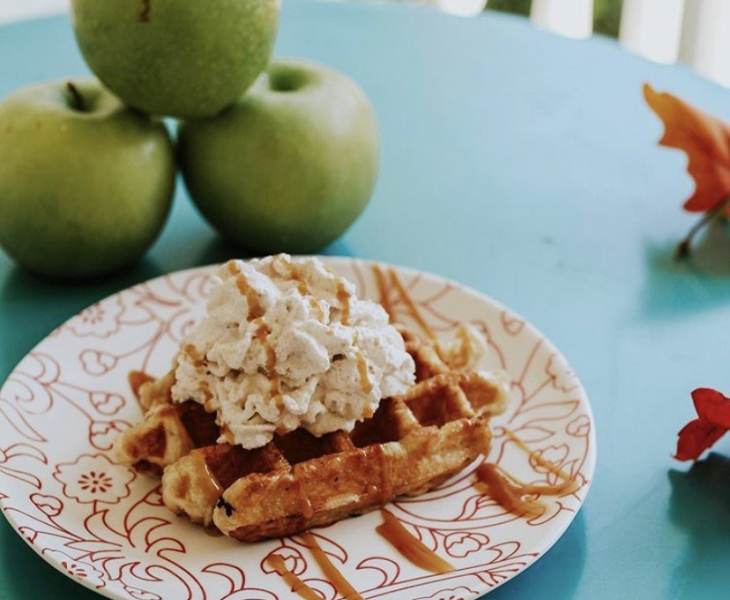 The temperatures have dropped, the leaves will begin to change, and the cozy, warm flavors of fall are making their comeback in the dining scene around Roswell. We're highlighting just a few of the seasonal must-haves you've got to try this season!
Apple Pie Waffle
Crazy Love Coffeehouse doesn't just serve delicious coffees and teas, they have waffles that are out of this world! Every month, they create a new waffle and for October, you can enjoy the apple pie waffle to get your morning started with fall vibes.
Apple Nut Butter Toast
Serving up locally sourced dishes, Fellows Café has the next addition to your fall flavors line-up. House-made sourdough bread with Georgia Grinder's almond butter, local bakes apples, and topped with maple syrup. Are you drooling yet?
Beef Short Rib
Ready to get extra cozy? Peach & the Porkchop is providing you that savory, comfort food experience. Their beef short rib comes with risotto, carrots, crispy sage, and a maple vinaigrette. Perfect for pairing with a glass of wine on their patio.
Meatballs
From the Earth Brewing Company is Roswell's only brewpub. Sip on one of their rotating, seasonal brews while dining on their top-notch menu. This fall, try their meatball appetizer to warm up your meal.
Gourd Vibrations Beer
Pumpkin, chocolate, and beer, oh my! Gate City Brewing Company is serving up a stout brew that will make all your fall flavor dreams come true. Gourd Vibrations is on tap this fall season and definitely worth a taste. Gourd, Gourd, GOURD VIBRATIONS…you know you couldn't help but sing that in your head while you read it!
Roswell has many more seasonal options throughout our 200 independently owned restaurants. For a list of restaurants, please visit our website. You can also get social with us on Facebook, Instagram, and Twitter.