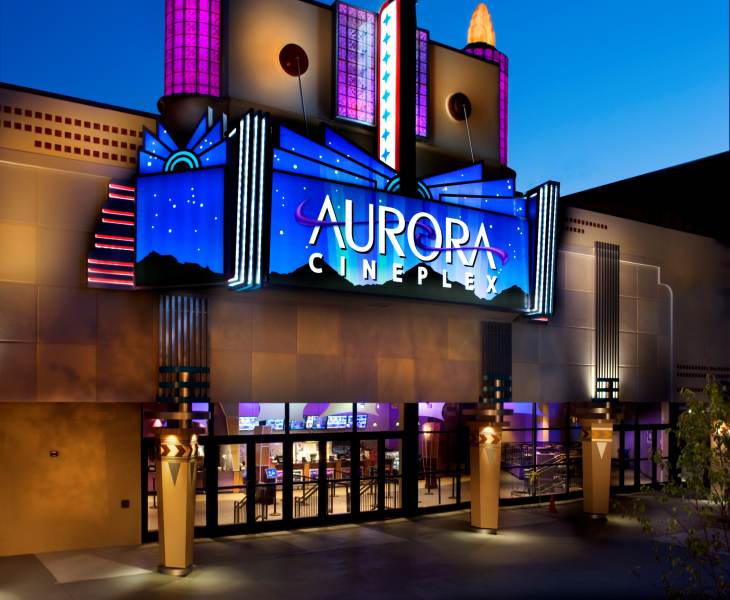 The Aurora Crew are happy to offer the best guest experience possible so you can unwind and enjoy! Don't miss out on all the excitement, check out these top 5 things to do when visiting Area 51.
1. Check out the latest blockbuster film at the movie theater
The Aurora Cineplex is a 10-screen movie theater with Sony 4K digital projectors offering visitors a state-of-the-art viewing experience. Open seven days a week, including holidays, means there are endless opportunities to watch movies. Be sure to check out the theater's featured films and special events held throughout the year.
Spooktacular Month brings Friday Fright Nights to the theater where Halloween movies are featured every Friday during October. Thanksgiving holiday films come to the theater in November and the featured film will be Black Panther: Wakanda Forever. In December, enjoy Christmas movies like Avatar.
2. Play a game of mini golf
With two 18-hole mini golf courses, The Fringe Miniature Golf is a great place for family and friends to show off their skills. Each course follows its own theme. The Chattahoochee Gulch course is a nod to local Roswell and North GA landmarks. Play around the Roswell Mill Water Wheel, Dahlonega Mine Train, and Vickery Creek Village in this old western town. The Doubloon Lagoon course features a pirate ship and pirate village. Visit the Fringe during special events- Spooktacular, Dress Like a Pirate day, Alien day, Easter, and more- throughout the year and see the courses decorated.
3. Fill up on goodies at Aurora Bakery
A visit to the Aurora Cineplex isn't complete without a homemade dessert. Chef Barb's delicious confections include chocolate chip, red velvet, snickerdoodle, and double chocolate chip cookies, cookie sandwiches, and brownies. Plan a visit during the fall to enjoy the seasonal oatmeal raisin cookies, s'mores bars, apple pie bars, and pumpkin bars. Check the bakery throughout the year for more seasonal confections and treats.
4. Celebrate a special event
There are many themed events throughout the year at Aurora Cineplex, including Alien Day, themed movie weekends, Spooktacular, and more. During these events guests will find staff in costumes and the facilities well-decorated. Be sure to visit on Saturday, October 29 from 4 p.m. - 6 p.m. to attend the Trick or Treat event. Plan to visit for Easter, Mother's day, Father's day, and the Aurora Birthday Bash Carnival for even more exciting activities. Whether you're celebrating a birthday or visiting for a special event, the Aurora Cineplex staff will ensure you have an unforgettable experience.
5. Save a buck or two
The Aurora Cineplex is excited to offer visitors a variety of money-saving specials throughout the week. Early birds can enjoy discounted movie tickets for showings before noon. Order a fountain drink or Icee and get unlimited, same day refills plus one free refill of any size popcorn, every day of the week. On Tuesdays movie tickets are $2 off. Grab popcorn on Wednesdays for as little as $1. Go mini-golfing on Thursdays to buy one course and play the second course for free.
The Aurora Cineplex and The Fringe Miniature Golf is a proud member of the Roswell community making donations to local schools, sponsoring City of Roswell events, serving up free popcorn at outdoor movies at Roswell Rec & Parks events, and more. Check out the Aurora Cineplex website for more information.
*This blog post is sponsored by Area 51 Family Entertainment