Roswell's newest steakhouse isn't just one to be known locally. What will soon find itself on the list of the Atlanta area's top upscale dining experiences, Bask Steakhouse beckons guests to be pleasantly surprised by its menu that is seasonal, locally-sourced, and decidedly Southern. Unexpected takes on familiar dishes keep foodies exploring visit after visit. The restaurant's highly selective incredible prime meats include both dry and wet-aged options. Offering a one-of-a kind wine list, barrel-aged beers, and prohibition-style cocktails, Bask's story is just beginning to unfold. In this blogpost, we chat with proprietor Tim Stevens to learn more about what led his wife Lisa and him to open this unmatched restaurant in Roswell.
Visit Roswell: Tim, you're a successful restauranteur having operated restaurants throughout the Atlanta area – and most notably in Roswell known for your success with From the Earth Brewing Company (FTE). What was your inspiration to open Bask?

Stevens: I thought East Roswell was missing an upscale, fine dining experience. There are no special occasion restaurants on this side of Roswell. When FTE got on its feet, I wanted to create an experience like when I was running Chops in Buckhead, back in the day. I realized I had missed the upscale restaurant scene, which is what started my love for the industry in the first place.
Visit Roswell: When you compare Bask to other metro Atlanta area steakhouses, what's something you would want potential customers to know as they consider reservation options?
Stevens: I believe Bask is a more upscale dining option than other restaurants in the area. All of our steaks are Prime, with the option of a few dry-aged. We also offer hard to find cuts, such as spinalis and A5 wagyu strip. I don't know of any other steakhouses around us that offer this level of steak. We also focus on fresh seafood as well. Our Day Boat Grouper is just that; grouper that was caught within 24 hours. We also take our beverage program very seriously. We offer a great selection of wines by the glass, bottle or large format. And our cocktail program is on the cutting edge of craft cocktails in Roswell. Plus, we serve selected beers from FTE. We've focused our efforts on making Bask a truly elevated experience when you dine with us.
Visit Roswell: Explain the atmosphere you've created at Bask. It's a beautiful environment. What was the thought process in what all went into the design and how it came together?

Stevens: Lisa and I reached out to The Johnson Studio to assist with the design. We worked very closely with them to create a warm and inviting steakhouse that still had traditional feels but in a more modern, approachable way. The focal point in the room is the sunken bar (which is counter height) and the upscale lounge/bar area when you walk into the space. We have an all-glass, temperature-controlled wine cellar that holds over 800 bottle of wines, which we have hand-selected from both our distributors and vineyards throughout Napa. When you walk into the dining room, you'll notice the details of the finishes including the over-sized gold and crystal chandeliers, the wall coverings, large and welcoming booths and an open kitchen. They did an amazing job and we are thrilled with how well it turned out.
Visit Roswell: We'll get to side dishes in a minute, but tell us about the quality of your meats and how you prepare them. What do you do differently, or where do you give the utmost attention?

Stevens: All of our meats come from the Midwest, which goes against our preference for local proprietors, but they by far have the best meat in the country. We use well-known Allen Brothers based in Chicago and Purely Meat Co., which was started by previous Allen Brothers employees. We made the choice to source prime Black Angus cuts. All of our meat is 30-day wet-aged and we also offer 45-day dry-aged cuts as well. We do bring in 60-dry aged cuts for specials from time to time. Our preparation style for our steaks is what really is the gamechanger - using a 1600 degree broiler. Broiling is by far the best way to prepare beef as it delivers a nice sear while keeping the tenderness of the meat. There are some other high-end steakhouses like Rathbun's Steak and Kaiser's Chop House that use the same broiler system we do.
Visit Roswell: What are your top-selling sides? Any must-haves for a first-time customer?

Stevens: Our most popular side is the Seafood Mac and Cheese, which has jumbo lump crab, shrimp, lobster, and king crab in a killer cheese blend. We also offer a unique style of potato, called the Hasselback, which is a combination of scalloped and baked potato. It's different but really delicious. Then we have traditional steakhouse sides with our own twist, like our sautéed mushrooms, sautéed corn, asparagus, mashed potatoes, and other seasonal sides.
Visit Roswell: Switching over to cocktails and other motivational beverages, can you share where your bartenders and mixologists shine?

Stevens: Elliot Rubenstein, our Bar Manager, has really taken the reins with our cocktail program. He has such creativity and passion for well-balanced cocktails, and he has solid support behind the bar. In addition to our seasonal, hand-crafted and barrel-aged cocktails, we offer non-alcoholic cocktails. Our bar area is extremely comfortable and welcoming, so we recommend coming in a bit early for your reservations to enjoy a drink!
Bask Steakhouse is located at 1570 Holcomb Bridge Rd., Roswell, GA 30076. Hours of operation for the bar are Tuesday through Thursday from 5:00PM to 9:00PM. Oyster Hour is from 5:00PM to 6:00PM. On Friday and Saturday, the bar is open from 5:00PM to 10:00PM. The dining room is open Tuesday through Thursday from 5:30PM to 9:00PM and Friday through Saturday from 5:30PM to 10:00PM. For more information, visit Bask Steakhouse.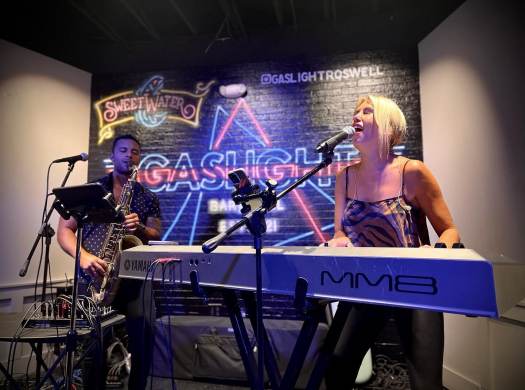 Toe-tapping, head-banging, rocking chair rocking or lawnchair lounging...